Virtual Museum of Canada (VMC) and the CHIN Professional Exchange
The Canadian Heritage Information Network (CHIN) is an organization that administers a complex distributed network of digital content contributed from over 3000 museums and cultural organizations from across the Canada. CHIN provides services (such as capacity building), programming opportunities (including investment), and among many other business aspects, houses 2 large Web programs: the Virtual Museum of Canada, and the Professional Exchange.
The Virtual Museum of Canada (VMC) includes a virtual learning environment where museums contribute structured learning resources and educators use web applications to create custom lesson plans, a Google Mapping guide to over 3000 museums, museum profile pages which serve as the only web presence for many Canadian museums, and nearly 1000 virtual exhibits.
CHIN's Professional Exchange is a place for museum professionals to seek advice, take courses, access standards, engage in dialogue, and learn from CHIN hosted research projects. As part of the Professional exchange, CHIN houses Artefacts Canada, a massive database that stores object records and images of artefacts from across the country in any and all museums and cultural institutions.
Launched in January 2010, the VMC Redesign Project spanned 18 months. The scope of the project included redefining the way in which CHIN operated (addressing 40 years of legacy product and business practice) becoming a truly virtual museum, connecting museum collections to national and international audiences in efficient, scalable, and cost-effective ways. The Web site itself is actually the public front-end to a collection of web applications and software components. It was the result of this enterprise architecture redefinition process. I led this project directing a large team of both staff from all departments of the organization as well as several external service providers addressing the project from top to bottom. Not one of the 60 staff were not implicated in some way. The project included 4 different software development sub-projects, the procurement, customization, and implementation of an enterprise search applicance, retro-fitting single-sign on to 6 existing products, workflow definition, changing job descriptions, and large volumes of data aggregation, management, and migration (one product alone contained over 6 million records and 600 000 images). The new CHIN Professional Exchange was a sub-project of the VMC Redesign and has since become an important resource for museum professional.

Virtual Museum of Canada - Home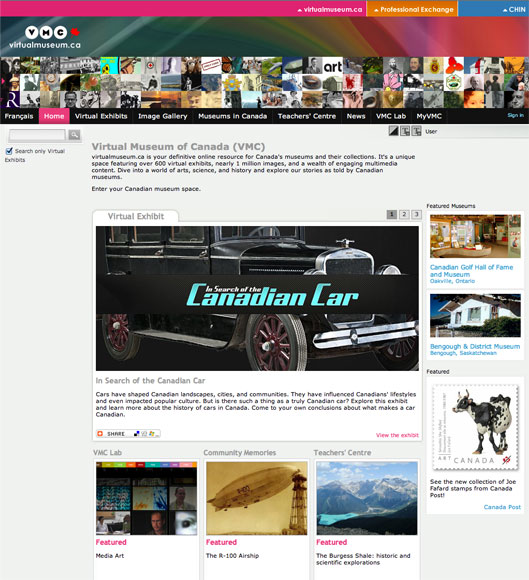 Virtual Museum of Canada - Lab Projects
(experiemental projects, the research of which is published in the Professional Exchange so that all museum can benefit from the research)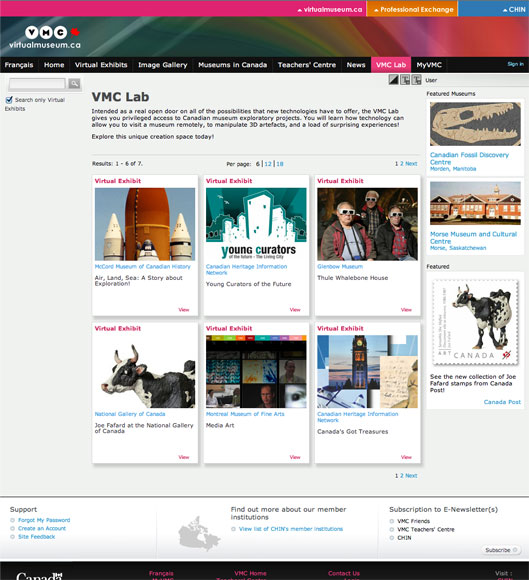 Museums in Canada application, listing all museums in Canada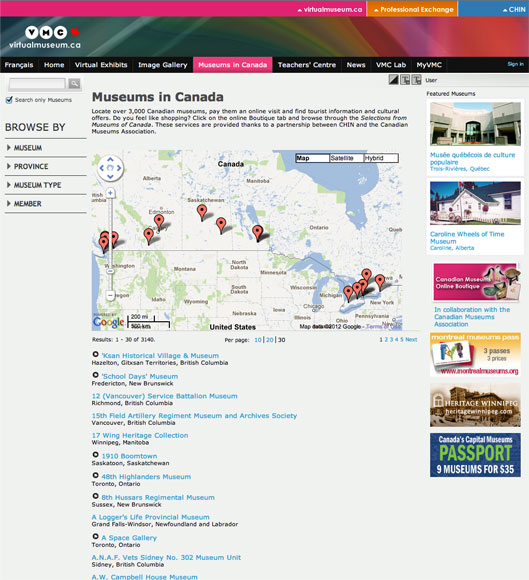 VMC Museum Profile Page
(the only Web presence that many Canadian museums have)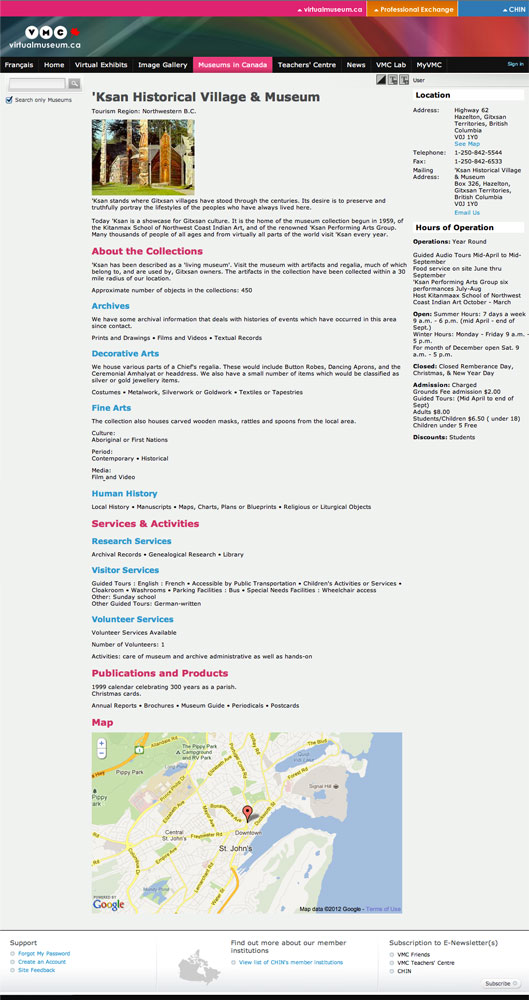 The CHIN Professional Exchange
(a collaborative space for museum professionals)